Rémy Martin Honors Obi Cubana As Part Of Its Global Campaign To Celebrate Collective Success
The quest for excellence has been the Rémy Martin trademark since 1724, a brand with the constant dedication of creating quality cognac.
Since its global launch in October 2019, #TEAMUPFOREXCELLENCE, The brand's new platform reflects Rémy Martin's values of authenticity, audacity, and generosity.
The campaign draws from these core values of the brand to pay homage to the personal success of titans of industries who have excelled in their field of endeavours, all the while carrying others along on their journey to success.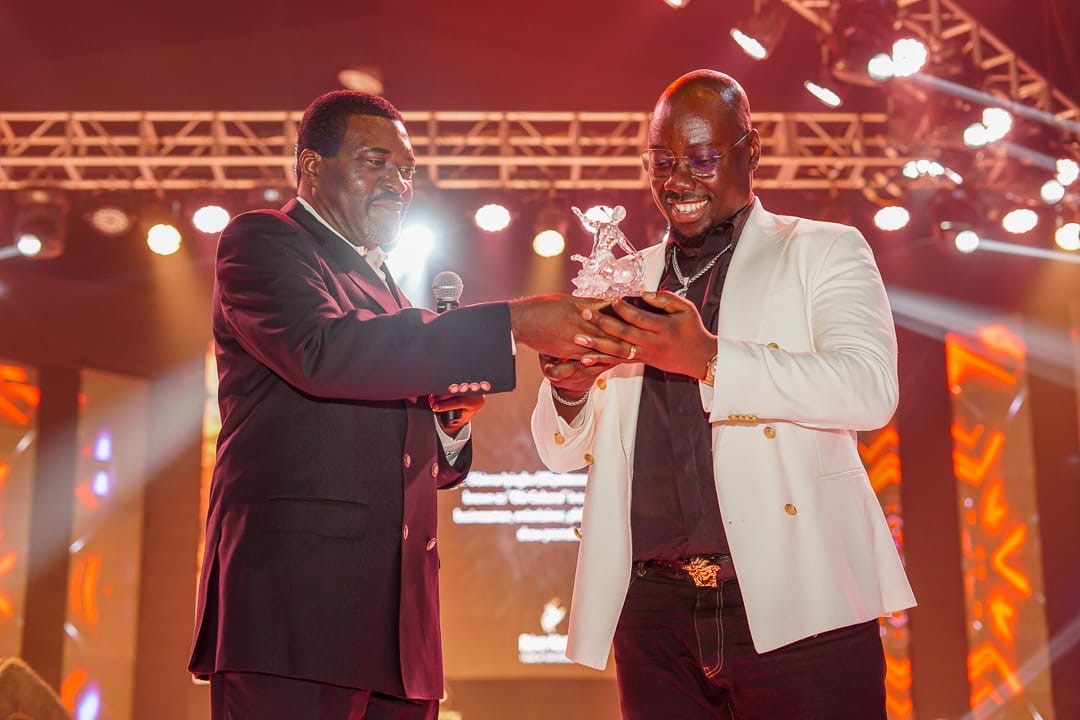 This year's honoree is renowned Nigerian businessman and philanthropist, Obinna Iyiegbu, popularly known as Obi Cubana, who has recently been voted the 2021 Man of the Year by Nigerians both at home and in the Diaspora.
Nominated alongside Governor Seyi Makinde of Oyo State, Tony Elumelu, Chairman UBA Group, and Abdul Rabiu, Chairman and founder of BUA Group, Obi Cubana as he's popularly known garnered the most votes to clinch the position.
The philanthropist and entertainer is the chairman of the Cubana group, a chain of hospitality businesses with interests in luxury real estate, Nightlife, restaurants, wine distributorship, and most recently blockchain technology.
To this end a dinner and gala night was hosted in his honor by Remy Martin Nigeria on October 15, 2021, at the prestigious Balmoral marquee of the Federal palace hotel Lagos.
The event was graced by titans of industries, A-list actors, and entertainers who showed up en Masse to celebrate Iyiegbu on this momentous occasion.
#TeamUpForExcellence #RemMartinNG @remymartinng #RemyMartin
---
Sponsored Content
SCOOP | How Eno Quagraine Is Helping Expectant Mothers With Her App
Founder Eno Quagraine did not start out intending to build an app at all. The initiative was born from a deeply emotional personal experience.
Meet Eno Quagraine, a Ghanaian developer, and founder of the Talkative Mother App. Eno did not start out intending to build an app at all. The initiative was born from a deeply emotional personal experience.
Twenty-four hours after the app was launched on the 1st of February 2021, the Talkative Mom app was ranked the number 2 parenting app in both the United States and the United Kingdom. Its popularity in those countries may have been short-lived but for the Ghanaian developer, it was proof of a huge demand amongst expectant mothers for a crucial commodity: information.
The Talkative Mother App has four distinct features: a motherhood-specific search engine called "Mom Plug'' where users can ask questions on parenting and search results that apply to the Ghanaian context; "Marketplace", where vendors can sell parenting goods; the regular Blog from Quagraine and finally, "Listings" for service providers. The app carries contributions from certified experts such as speech and language therapists, paediatricians, sex coaches, breastfeeding specialists and nutritionists.
Quagraine explained that "Marketplace" has been particularly well received by expectant parents. "This unique feature makes them find all the Ghanaian products they want but are so difficult to locate.''
It's the blog, however, which seems to keep users coming back for more. One of the reasons is that amongst the stories shared by mothers, there is plenty of comic relief. However, it is the information provided on the app that remains its best selling point.
Dzidzor Arkutu a regular user of the app had this to say in a review:
"There are so many apps around but most of them are foreign and don't address our local needs. This app is unique because it speaks to the issues bothering the Africans, which we feel very shy to talk about. My children's paediatrician is even there so it makes direct access to medical services easy."
With thousands of users regularly visiting the platform, major brands have been keen to get on board, too.
"I have worked for so many brands, like Boomerang, Vlisco and Pepsodent and I am still working with others. These are opportunities I would never have gotten if I did not take the bold step to share my motherhood journey," said Quagraine.
In October 2021, Quagraine started her television show – aimed at young African mothers.
The 31-year-old mother with a masters in marketing now aims to take Talkative Mom to every mother on the continent. While that points to huge personal ambition, it is the message that keeps her motivated.
"What makes me more excited is when I hear people tell me how my app is helping them on their motherhood journey," she said.
OAU's Best Medical Graduating Student Bags 9 Awards & 10 Distinctions
Dr. Joy broke a record with 9 awards and 10 distinctions in Medicine, the best so far for the Faculty at Obafemi Awolowo University.
Dr. Joy Adesina has emerged as the best graduating student in Medicine at the Obafemi Awolowo University, Ife, Osun State, and she has been rewarded for her excellence
Joy set the record after she bagged 9 awards and 10 distinctions in Medicine, making it the best result in the history of the Faculty at Obafemi Awolowo University.
Cover Story: Genius Mag Goes One-On-One With Marilyn Oma Anona
"Being a woman is not any kind of handicap…. So there is no special challenge for me that comes because I am a woman. If I face sexual harassment, it's not because I am a woman but because I unfortunately had to meet an irresponsible person and so on."
In the midst of changing societal and global trends and digital culture, Oma Anona, a media icon, has continued to defy the world of business and social work by pushing herself and her team towards the edge of positive impact. In this interview with Rose Jonathan, of Genius Gist Mag, she shares her life's travails and triumphs in business, social work and the future that lies ahead.
The ever resilient show host was the spotlight for the 4th edition of Genius Gist Magazine 2021. Oma let us in on her early life, sharing insights on the perceived chronic nature and difficulties associated with running businesses in the present day Nigeria. She also talks experience, career drive, the perceived gender discrimination, core challenges, and successes in poverty and unemployment alleviation with her locale and beyond. Read excerpts from the interview below.
Commenting on her background and early life, she said;
"I had a reclusive upbringing where we were not allowed to mingle or socialize. There was no one to learn anything from except from within… I would say my management skills came as a result of self-discovery and gaining clarity early enough… Furthermore, I am very multitalented. I can do a lot with so much ease, so I thought "why waste all that ability sitting behind a desk doing routine jobs?" So I left my high paying job and wandered off in pursuit of purpose."
When quizzed about her venture in business, Oma had this to say;
"I am an entrepreneur not a business person. I am more about providing solutions, making impact and changing the world. Making money is secondary and not the direct purpose. The desire to make a difference in the world, you know make the world more beautiful than I met it inspired me into the work I do. If you talk to anyone who knows me closely, they will tell you that I value excellent execution and results first before financial rewards. Inevitably, money will come when the impact has yielded fruits."
About her perception on the level of difficulty associated with developing, building and sustaining a business in Nigeria as alleged by startups and entrepreneurs, the icon was of the opinion that she "won't describe the situation as regards building business in Nigeria as very difficult".
"…. I just think that as a developing country, many of us are just laying the foundation for a better tomorrow. For me, this is the stage where and when we should be giving to the country to grow it. Our children will enjoy the Nigeria of our dream.  So I see Nigeria as green and prospective. The multiple problems we have is proof that there are tons of opportunities that need exploitation. Problems need solutions, don't they?"
Bothering on the challenges she faced daily in the work sphere, coupled with the gender-based misconceptions about career women, women in the media and women in business generally, the spotlight said;
"I am not one of those entrepreneurs who mask their struggles and put up the facade of 'I am well and things are smooth.' No!"
"Being a woman is not any kind of handicap…. So there is no special challenge for me that comes because I am a woman. If I face sexual harassment, it's not because I am a woman but because I unfortunately had to meet an irresponsible person and so on."
 For the full interview or to get a copy of the magazine, click here